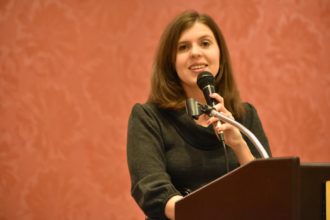 Using southern charm and conversational humor, Dr. Laurel Shaler speaks on topics related to the intersection of faith, culture, and emotional well-being. A few of her speaking topics and descriptions are listed below followed by several brief videos and audio clips for your review. Please
contact Laurel
if you are interested in having her speak to your group! (To learn more about Laurel's presentation topics for professional audiences, please click
HERE
.)
Relational Reset: Unlearning the Habits that Hold You Back
Dr. Laurel Shaler has observed eleven common blind spots that sabotage friendships, work relationships, marriages, and more. In this talk you will learn how to:
Identify what's holding your relationships back
Break bad habits that hurt you and others
Create new habits that build healthy bonds
Reclaiming Sanity: Hope and Healing for Trauma, Stress, and Overwhelming Life Events
With a girlfriend's companionship and a professional counselor's expertise, Dr. Laurel Shaler walks you through personal stories and biblical insights that shed light on daily and traumatic stress. In this talk, Laurel will show you:
How to find freedom from the past
Five myths about anger and how to overcome them
The antidote for nagging worry and sleepless nights
Ways to rebuild trust in others
How Christ gives true strength
Anchoring Emotions to God
Emotions change frequently and can be overwhelming to try and manage alone. With God, we can reign in our emotions and have more control over them. After this talk, participants will:
Not feel so alone in their battle with emotions.
Understand the most common problematic emotions and and their consequences.
Be able to anchor emotions to God through prayer, God's word, and wise counsel.
Help for the Frustrated Female!
In this talk, Laurel will help you:
Identify when your frustration is hurting you.
Help you learn new coping skills.
Begin to identify deeper hurts that are masked by frustration and anger so that you can begin to heal.
Infertility and Adoption Awareness
After14 years of marriage and infertility, Laurel and her husband finalized the adoption of their daughter in November 2017. Through this talk, Laurel will relay:
Her own story of infertility.
The importance of adoption not being the "back up option."
How to war against abortion through adoption.

 
Mental Illness and The Church
Often seen as taboo, this topic is a critical one. Many Christians face depression, anxiety, and even more serious mental disorders. By attending this talk, Laurel will help you:
Overcome the stigma that is attached to mental illness by providing education on mental illness.
Discern what type of help you or a loved one may need through information on the varieties of help available.
Supporting Service Members & Veterans
Almost everyone has a connection with our armed forces. If not directly, then through a loved one who has had difficult military experiences. Through this talk, Laurel:
Educates participants on military culture.
Speaks about Posttraumatic Stress Disorder (PTSD) and other common concerns among service members and veterans.
Informs participants on how they can support their beloved service members and veterans.
If God Is For Me…
This is the story of Laurel's life-saving surgery at age 18 and how she has seen God's plan for her life since. Through this testimony, Laurel:
Conveys God's healing power and provisions.
Brings light to the battle that ensues following a difficult life experience.
Helps her audience see that God has a purpose for each of His children.
Staying Strong in a Changing Culture
With the changing cultural tides, it can be difficult to stay strong emotionally and spiritually. In this talk, Laurel:
Addresses the changing culture and the impact it has on emotional health and faith.
Teaches what the Bible has to say about truth.
Encourages the audience in how to stay strong in the ever changing culture.
Self-Care is Not Selfish
This talk is for the caregivers. Whether you are a professional caregiver, caring for a loved one in need of full time care, or caring for your families day-to-day needs, this talk is for you. Through this talk, Laurel:
Teaches the importance of relaxing and walks the audience through relaxation techniques.
Addresses the importance of holistic self-care: emotional, physical, relational, and spiritual.
Shares the benefit of humor as a tool for self-care.