Reclaiming Sanity: Available Now!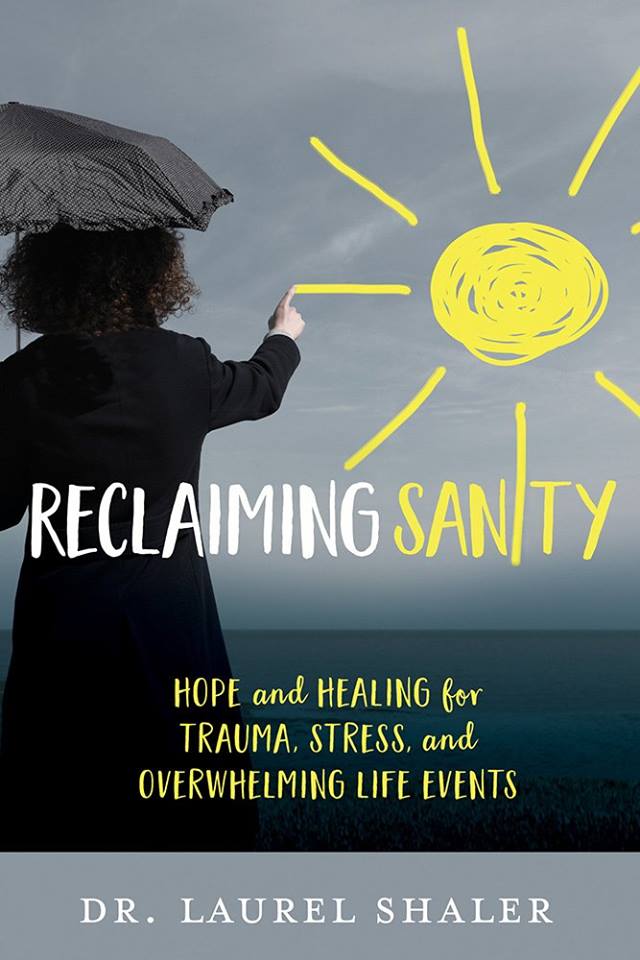 Reclaiming Sanity: Hope and Healing for Trauma, Stress, and Overwhelming Life Events by Dr. Laurel Shaler (Published by David C. Cook, 2017).
Purchase through your local bookseller or Amazon, Barnes and Noble, Bible Gateway, Books A Million, Christianbook.Com, CrossWay, Lifeway, or Target!
With a girlfriend's companionship and a professional counselor's expertise, Dr. Laurel Shaler walks readers through personal stories and biblical insights that shed light on daily and traumatic stress. In Reclaiming Sanity, she shows:
How to find freedom from the past
Five myths about anger and how to overcome them
The antidote for nagging worry and sleepless nights
Ways to rebuild trust in others
How Christ gives true strength
Offering effective action steps toward reclaiming sanity, Dr. Shaler guides readers through the healing process, whether they are dealing with a one-time traumatic event or years of hidden pain.
Read more about #ReclaimingSanity on the Bible Gateway Blog 
Writing Topics
Adoption and Infertility
Crisis, Trauma, and Posttraumatic Stress Disorder
Emotional Well-Being of Women
Friendships Among Women
Help for the Frustrated Female
Pre-Marital and Marriage Counseling
Mental Illness Among Christians and Response by the Church
Military and Veterans Issues
Reclaiming Relationships
Self-Care (It's Not Selfish!)
Women Developing an Abundant Life in Christ!
Selected Publications
Shaler, L, Volk, F., Liscio, S., Stewart, B., and Cassidy, E. (2017). The impact of motivational types on first-year GPA among military spouses in college. Military Behavioral Health. Retrieved from http://www.tandfonline.com/doi/full/10.1080/21635781.2017.1419892

Shaler, L., Warren, E., Adkins, K., Goss-Reaves, L., & Volk, F. (2017). Supporting military spouse graduation rates through specialized institutional support and authentic appreciation.

Journal of Military and Government Counseling, 5

(2), 134-149. Retrieved from

http://acegonline.org/wp-content/uploads/2013/02/JMGC-Vol-5-Is-2.pdf

Shaler, L. & Wood, S. (2017). Fostering Friendships.

Just Between Us, 27

(2), 16-17, 45.

Shaler, L. (2016).

The social implications of post traumatic stress disorder.

In Randal W. Summers (Ed.), Social Psychology: How Other People Influence Our Thoughts and Actions. Santa Barbara, CA: ABC-CLIO Publishers

Shaler, L. (2015). Self-care is not optional.

Therapeutic Speakeasy, 1

(3), 4.

Shaler, L., Hathaway, W., Sells, J., & Youngstedt, S. (2014). Correlates of anger among

Operation Enduring Freedom and Operation Iraqi Freedom veterans.

Journal of Military and Government Counseling, 1

(3), 136-151.

Shaler, L. (2014, May) YOU – Wonderfully Made.

Journey

by Lifeway

Shaler, L. (2013) Penned from the Heart: Volume 20 (Compiled by Marilyn Nutter). Son-Rise Publications, New Wilmington, PA.

(http://beaconwealth.com/2013/09/september-2013-true-wealth-spotlight/)

Shaler, L. (2013). You're My Hero.

Military Counseling Initiative

,

1

(1), 4-6.

Shaler, L. (2013). Is Your Anger Helping or Hurting?

P31 Woman

,

4

, 10-11.

Shaler, L. & Wood, S. (2013). Anger and Betrayal: The Emotional Toll of Pornography.

EW Magazine, 5

(2), 28-31.

Shaler, L. (2013). You're My Hero.

E-Report ACEG

,

Association for Counselors and Educators in Government, 2

(1), p. 4.

Shaler, L. (2011). Correlates of Anger Among OEF/OIF Combat Veterans. Dissertation