There are few words I can use to describe The Insanity of God. Before I get started, there are a few spoiler alerts…you have been warned! (No, seriously, if you don't want spoilers, do not scroll below the photo!)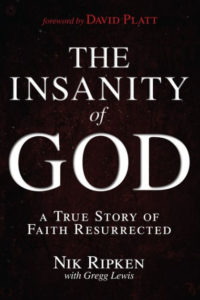 My pastor asked our church members to read this book about a missionary who spent years in devastated Somalia providing crucial aid while under daily threat for his own life, lost one of his sons to an asthma attack while living overseas, and then traveled the world learning how persecuted Christians have kept their faith. Reading about the persecuted church from Eastern Europe to China to the Middle Easter – and many countries in-between – impacted me in a way few books have. I wept as Nik shared that he no longer has communion without thinking about the last time he shared this sacred act with four believers in a Muslim country who were later martyred for their faith. This really brought faith home for me. As one follower of Christ challenged Nik – how dare Christians in open countries give up what we have in freedom when they will not give up sharing the Gospel, meeting together, and worshiping the Lord while they are being persecuted to the point of imprisonment and death. I was stunned at the story about a group of Chinese believers who vowed to get up an hour earlier to pray for the few believers who lived in a middle eastern country and were under the constant threat of death. Allow me to spell that out a bit more. A group of Christians who are persecuted and imprisoned, who must gather together in secret, are so concerned about their fellow brothers and sisters who are experiencing greater persecution than they? To the point that they arise an hour earlier to not only pray but wail to the Lord on behalf of them? I suppose once you have experienced persecution, you really see the importance of prayer. How often do Christians in areas of the world where we do not experience persecution take time away from our busy lives – lives that allow us to worship freely and openly if we so choose – to pray for the persecuted church? Not nearly often enough.
I understand that there are some religious freedom issues in America that we should challenge; however, the truth is that we are not persecuted. Sure, we may be embarrassed for our faith. We may be put down, called names, cast out of a group. So. What. That is nothing compared to being put in prison, separated from your family, tortured, and killed. We take so much for granted. We care so much about what kind of music is being played in our churches when Believers in other countries have only their own voices to raise and do it joyfully. We give our tithes and offerings with grumbling while men and women in desperate and destitute locations give everything they have to help care for the brethren…and for non-believers to whom they are witnessing. We allow our Bibles to collect dust while Christ followers in other countries divide up a single copy of a Bible. Once again, I am brought to tears. Right here in the middle of a coffee shop where everyone has heard of Jesus. But not everyone in the world has. What am I willing to do to bring the Gospel to the world? Will I at least pray? Is that not the very least I –  we – can do? Oh, sisters and brothers, I do not want this book to challenge and change me temporarily, but forever. Please, Lord. Please. May this heart change be permanent. Outside of the Bible, this may be the most powerful book I have ever read. Read it for yourself and see if it doesn't change your life (check out the movie too). More importantly, see if it doesn't result in others experiencing a changed life because of the gospel of Jesus Christ that we are called to share with all people everywhere.