Since my last blog post, I've celebrated my wedding anniversary and my birthday. Both are wonderful reasons to celebrate, which I certainly did. My husband and I try to eat at Chili's on our anniversary. If you're not familiar with, it is somewhat of a TexMex restaurant. The tradition began on our honeymoon when we had Chili's delivered to our hotel room. (I've never seen that before or since!) With the exception of a couple of years when there was not a location near by, we have continued this tradition over the past 13 anniversaries.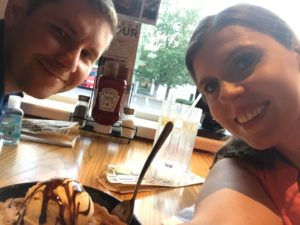 We got married on August 23, 2003, two weeks before my 22nd birthday. That means I just turned 35. I decided to throw myself a party for the big day. My family and I bar hopped…from salad bar to potato bar to ice cream bar to candy bar. (I think that joke is funny. To be clear, no alcohol was involved.) We had a fun "Frozen" themed party at my house. I have forced my nephews to watch "Frozen" so many times that as I was prepping food in the kitchen, my oldest nephew yells out "Laurel, hurry, or you'll miss your favorite part!" My dad got to experience the movie for the first time that day. My job was done. And, ironically, a week later I ran into Elsa at the local Chick-Fil-A. Week made.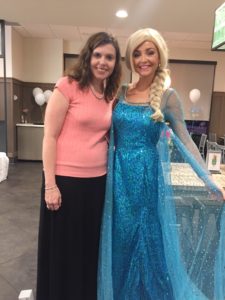 Both of these special occasions were reminders of how blessed I am. I have a wonderful husband who loves my unconditionally. I have family who share my love of rainbow chip cake (or put up with it, depending on the family member) and don't mind attending a Disney themed party for a 35 year-old. And it wasn't about the gifts, but I sure was spoiled…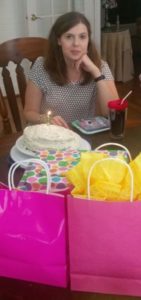 Yet, if I am honest, this year's celebrations were bittersweet. I never imagined I would celebrate my 13th wedding anniversary and 35th birthday childless. We have invested so much time and effort exploring ALL of our options for children, and are stuck waiting. We know we are waiting on the Lord, but the wait is still hard. On one particularly tough day when we were wrestling with a decision related to all of this, I walked into my bedroom. For the first time, I paused to read a Bible verse on a beautiful sign my secret sister from church gave me. I loved the beautiful cross on the artwork, and it matched beautifully with the color of my bedroom walls (hmmm…has she been in my room?), so I went ahead and hung it up on a nail that was already in place. I would be embarrassed to admit I had not read the scripture, except for the fact that when I did finally read it…I was literally stopped in my tracks by the impact it had on me.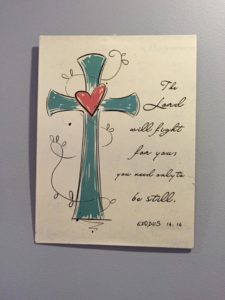 Yes. Yes! The Lord will fight for me. I need only be still. I immediately snapped the picture above and texted it to my husband. I also posted it on Facebook because it was too powerful not to share. Listen, friends, I don't know what battle you are facing or have faced or will face. But I know battles are all around us. Like Dr. Frank Page says, "We are living in a battle ground, not a playground." So, yeah, we're facing battles. But God, GOD, is fighting for us! It gives me chills to think about the fact that I don't have to do any of this fighting. I don't have to stress or worry or fret. God is in control.
From Got Questions Ministries (www.gotquestions.org):
In Exodus 14:14 Moses tells the children of Israel, "The LORD will fight for you; you need only to be still." At that moment, they were standing at the edge of the Red Sea, hemmed in by the sea before them and the Egyptian army behind. The Israelites are in a seemingly impossible situation, but it was a situation brought on by the Lord Himself.
Did you catch that? God brought the Israelites to this situation. Surely, He would carry them through it. I think of the old saying "If God brings you to it, He will bring you through it." It may sound trite, but it's soundly true. At the moment of crisis and terror that was faced by Moses and his crew, God did fight for them. He made a way for them to survive and for their enemies to be destroyed. God used Moses in this scenario. I don't know what or who He will use for us in our journey to parenthood, but I know He is fighting this battle. I know He is fighting your battle too. We need only be still.
YOUR TURN: What battle have you been facing that you want to turn over to God?